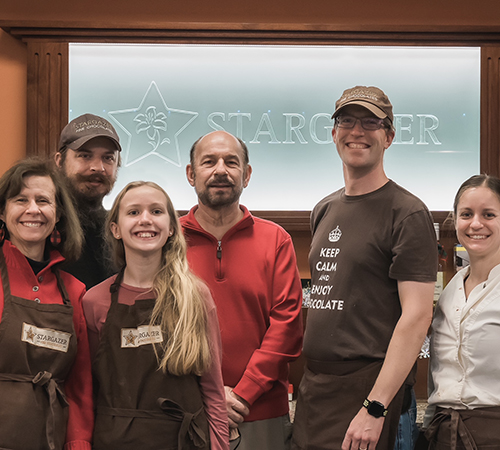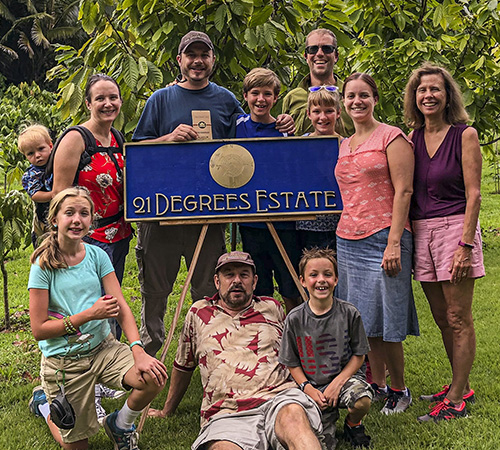 Our Family
Stargazer Fine Chocolates is our family-owned and operated business located in Denver, CO specializing in the creation of hand-crafted, artisan chocolates. Since the best chocolates originate with select cocoa beans, we order our fair trade, certified, non-GMO chocolate from a fourth generation supplier.
Our professional chocolatier, Karen, transforms this chocolate into unique creations, which will delight your eyes and please your palette. Karen's interest in chocolate began with our family's 25 year relationship with a local chocolate shop and its owner, a European-trained chocolatier, who generously shared his knowledge and expertise with Karen over several months prior to his retirement. Karen enjoyed this extensive hands-on training, which inspired her to continue her education at the renowned Ecole Chocolat where she has achieved the designation of Master Chocolatier. Karen's experience, talent, and artistic ability led to the establishment of our Colorado chocolate company.
Today we offer a wide variety of traditionally prepared fine chocolates including handcrafted truffles, chocolate bars, nut and fruit filled bark, specialty and hand-dipped items to delight both adults and children, holiday themed treats and gifts for family, friends and business associates.
Our family welcomes the opportunity to share our delicious chocolate creations with you and your family.
Enjoy a video tour of our shop!
Stargazer in the News!…
Here are the latest updates!
By Lowry resident Suzi Fogarty, The Lowry Aviator, February, 2021Read the Full Article Here >
read more